PROJEKT SCHWEDT.








Fabian Kalbitzer (b)


Edith Steyer (reeds)


Volker Meitz (keys)


Jason Liebert (tb, ssph)


Bernd Oezsevim (dr)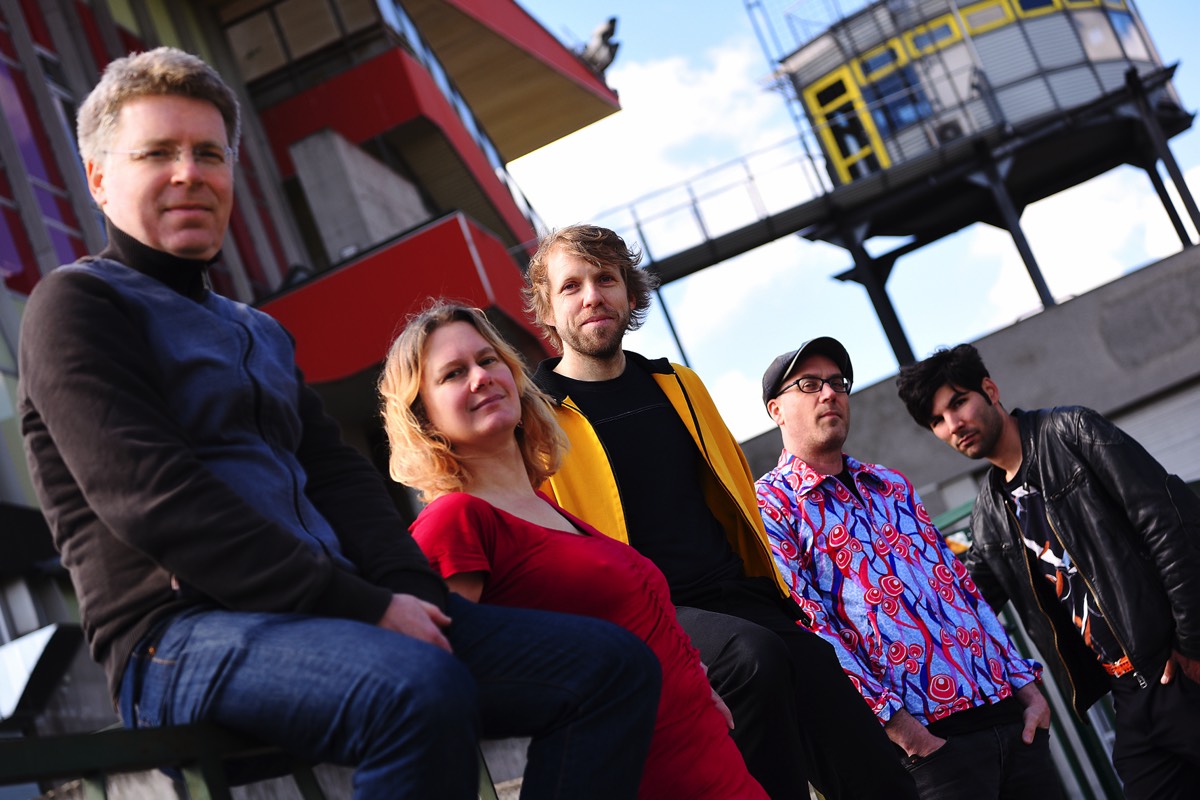 Fünf Musiker, die zu unterschiedlichen Graden in improvisierter Musik, Jazz und Elektronica verortet sind. Schon beim ersten spontanen Konzert "funkt" es, sie gehen in's Studio und nehmen ein Album auf, mit erfrischen undogmatischen Ansatz: Akustische und elektronische Klangarbeit, tonale und atonale Elemente sowie Groove und dessen Auflösung bis hin zur Ambience stehen gleichberechtigt nebeneinander.


Five Berlin based musicians, to different degrees hailing from Improvised Music, Jazz and Electronica. Already at the first spontaneous concert, things "click", and they go straight into the studio to record an album, with a refreshingly undogmatic attitude of having acoustic/electronic, tonal/atonal, groove/deconstructed/ambient elements on par with each other. - Check the excerpts below!
Resultat:
Das Album "Kreuzblendentraum" erscheint Sommer 2017 auf WismART.


Auf "Kreuzblendentraum" ist die Saxofonistin
Kathrin Lemke
mit ihren letzten Studioaufnahmen zu hören, bevor sie wenige Monate später verstarb. Edith Steyer, die ihre Bassklarinette geerbt hat, spielt seitdem auf der Saxofon-Position…
The album "Kreuzblendentraum" is due out 2017 on WismART.


On "Kreuzblendentraum", saxophonist
Kathrin Lemke
played her last studio recordings, before she passed away just a few months later. Edith Steyer inherited her bass clarinet and has taken over the reeds position since…
"Kreuzblendentraum" - Album Snippets

Kathrin Lemke † -
alto sax, flute, bass clarinet

Jason Liebert -
trombone, sousaphone

Volker Meitz -
organ, clavinet, rhodes, synthesizer

Fabian Kalbitzer -
electric bass

Bernd Oezsevim -
drums
Live @ Peppi Guggenheim, Berlin

Edith Steyer -
alto sax, clarinet, bass clarinet

Jason Liebert -
trombone, sousaphone

Volker Meitz -
rhodes piano, FX

Fabian Kalbitzer -
electric bass

Bernd Oezsevim -
drums
Live @ Café Niesen, Berlin

Edith Steyer -
alto sax, clarinet, bass clarinet

Jason Liebert -
trombone, sousaphone

Volker Meitz -
rhodes piano, FX

Fabian Kalbitzer -
electric bass

Bernd Oezsevim -
drums
Live @ Jazzkeller'69 / Aufsturz, Berlin

Edith Steyer -
alto sax, clarinet, bass clarinet

Gerhard Gschlößl -
trombone, sousaphone

Volker Meitz -
organ, rhodes, synthesizer

Fabian Kalbitzer -
electric bass

Bernd Oezsevim -
drums
"Die Studio-CD (ist) so unmittelbar und umwerfend wie ein Live-Gig … verknüpft Rockjazz-Rhythmen mit Sun-Ra-Jenseitigkeit, Experimentierlust mit dem Spaß an der Repetition."
"Das lebendigste…, mutigste, witzigste und ernsteste Projekt, das derzeit Jazzmusiker auf die Bühne bringt."
(Tobias Richtsteig / Jazzthetik)


"Sensibles Zusammenspiel… assoziationsreich… geheimnisvoll. Wer Lust auf hochinspirierte und undogmatische Sounds hat, der wird sich von diesem Strom bewegender Klangfarben und Bilder gerne mitreißen lassen." (Thomas Volkmann / Jazz Podium)


"Jeder Schritt, jeder Titel ist eine Entdeckungsreise in ungehörte und unerhörte Gefilde."
(Rainer Bratfisch)


"Eine aufregende und originelle Visitenkarte, die eine Menge über den Schmelztiegel Berlin erzählt… Volker Meitz ist ein wichtiger Musiker in der jungen, aufregenden und offenen Berliner Szene."
(Tor Hammerø, Tor De Jazz / NO)

"The studio album is as immediate and stunning as a live gig … combining rock jazz rhythm and Sun Ra otherworld, delight in both experimentation and repitition."
"The most lively, amazing, bold, funny and serious project that brings jazz musicians to the stage at this time." (Tobias Richtsteig / Jazzthetik magazine)


"Sensitive interplay… rich in association … mysterious. Those with a liking for highly inspirative and undogmatic sounds should get thrilled by this stream of moving timbres and pictures."
(Thomas Volkmann / Jazz Podium)


"Every step of the way, every title is an expedition into undreamt and unheard-of realms."
(Rainer Bratfisch)
"An exciting and original business card that tells us a lot about the melting pot Berlin… Meitz is an important musician in the young, exciting and open minded Berlin scene."
(Tor Hamme
rø, Tor De Jazz / NO)
>>> Press-Kit hier herunterladen <<<